See how to navigate follower & engagement analytics in Willow
In your Willow Home's Analytics tab you can see a simple dashboard. It gives you an overview of your channels' performance and a breakdown by channel.
Jump to:
Total audience & Total Engagement stats
Overview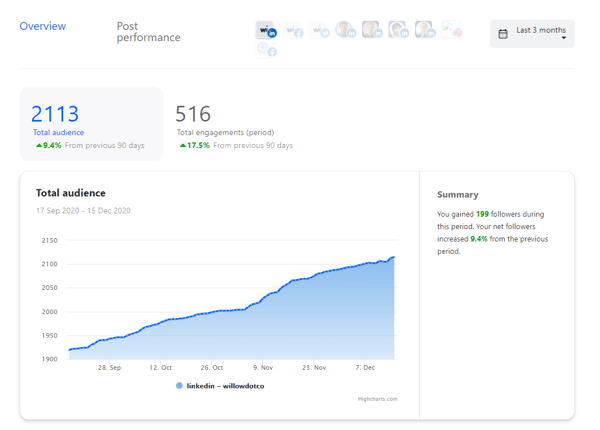 The overview shows you your Total Audience and Total Engagements numbers for a given period.
Toggle between Audience & Engagement stats

To toggle between Audience and Engagement statistics, click on their respective numbers above the chart.
Change the reporting period

You can change the period to Last 7 days, Last month, or Last 3 months by clicking on the calendar in the top-right.
See analytics for 1 channel
You can also click on a social media icon at the top to see a Total Audience or Total Engagements graph just for that particular channel.
Scroll down to see a table with the complete breakdown of your statistics by channel.