How to add/remove tasks in your monthly schedule.
Jump to
Adding tasks at the beginning of your journey with Willow allows you to save a lot of time while managing your socials.
Your customer success manager will help you set up a monthly schedule in your Willow Home.
They'll pick the best posting times for you so your Monthly view looks something like this:
However, you can add more tasks if you and your social media expert think you should post more frequently.
Adding tasks
To add a task click on the Add Tasks button on the top-right of your Schedule - Month view.
1. Write a title. Choose what you will title this task in your schedule. Think about what the post is going to be about.
2. Pick when the task will happen. If it is only going to be a one time post, then choose the date you'd like to schedule the post.
If it is going to be a recurring post in your schedule, switch on the Repeats toggle. From there, you can decide at which frequency the task will repeat in your schedule: every week, two weeks, month or year.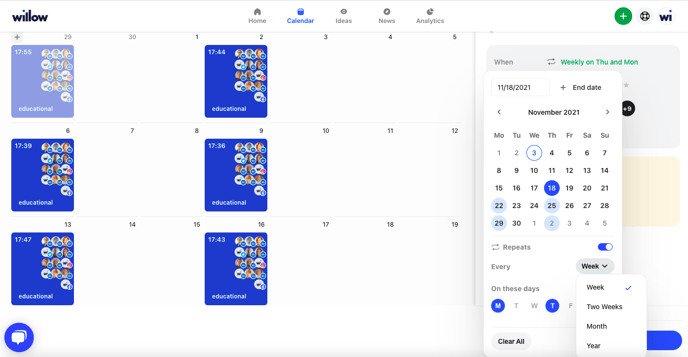 The final decision is on which exact days the task will be scheduled on. For example, every Tuesday and Thursday of the week. Or every third Monday of the month.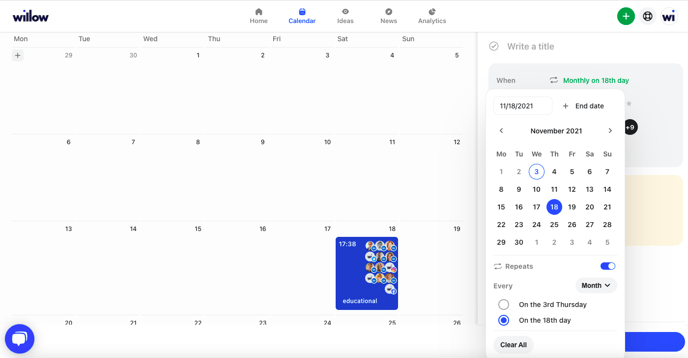 3. Next, you'll need to decide what time the task will publish. But don't worry, we make it easy for you! We rank what time frames are best for optimization with stars. The more ⭐'s the better that time frame is for your post. Once you select a time period, we'll schedule the post at a random time within that frame. Or you have the option to customize the time to exactly when you'd like.
4. Select the channels you want this task to be published to.
5. Pick a Category. Choose from the following: Educational, Entertain & Inspire, Personal, Promotional, Employees & Workplace.
6. The last step before saving your new task is to Write a description to help you when you're posting. These notes are just for you and your team members to read. They will not be posted. The description could be pointers on what to include in the post - such as an image to add or what to include in the caption.
7. Now press Create Tasks at the bottom. You have successfully created a task in your schedule!
Edit/Remove tasks
To edit or remove a task, click on an existing task in your schedule. A few options will appear. From here, you have the choice to: Write post, Write draft, Edit this task, Edit all tasks in this series, or Delete task.
If you would like to simply edit the task, then choose between editing every task in the series or just the specific task that you clicked on. This will open up the panel on the right side of your screen that you used to create the task.
To remove the task from your schedule, click Delete task. Once you've decided to delete the task, an option will appear to either delete just this task or delete all tasks.